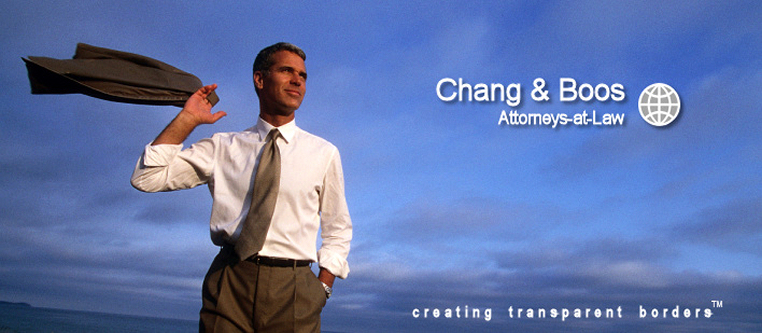 Canada and US Immigration Lawyers Representing Foreign Entrepreneurs (E-2 visas), Corporate HR Departments, and High Net Worth Individuals
Chang & Boos is a multinational relocation law firm practicing exclusively in the field of Canada Immigration law and US immigration law. As established US and Canada immigration lawyers based in Toronto (Canada) and Bellingham (United States), we offer a full range of legal representation to foreign investors, corporate HR departments, and high net-worth individuals seeking both nonimmigrant visas and immigrant visas.

Chang & Boos is committed to providing the highest quality legal services to its clients, in a timely manner, and at competitive rates. We provide top tier legal representation both as Canada immigration lawyers and United States immigration attorneys. Aggressive businesses seeking to expand their operations into the United States or Canada retain Chang & Boos to facilitate the cross-border movement of investors, entrepreneurs, executives, managers, specialized workers, and family members. We offer ongoing representation in applications relating to visas, work permits, study permits, permanent residence, and passports.

As advisors to corporations and high net-worth individuals, we provide legal advice on human resources matters relating specifically to the temporary and permanent relocation of personnel worldwide (including citizenship and passport issues). Our clientele includes global leaders in business, financial services, natural resources, manufacturing, and entertainment, as well as scientists, executives, professionals, investors (treaty investor visas), and entrepreneurs (EB-5 immigrant visas).

Clients retain Chang & Boos when seeking L-1 intracompany transferee visas, Trade NAFTA (TN) visas, E-2 visas for treaty investors and E-1 visas for treaty traders, or H-1B specialty occupation visas. They also retain the firm for representation in permanent residence matters, including petitions as EB-1 executive and manager visas and EB-5 entrepreneur visas (including EB-5 Regional Center cases). Chang & Boos also assists clients in applying for naturalization and passports.

Attorneys at Chang & Boos act in full compliance with all applicable regulatory requirements in every jurisdiction where they practice law in North America, specifically Canada and the United States. For example, all attorneys in the firm's Toronto office are admitted to practice law in both the United States and Canada (Ontario) and are also registered as foreign legal consultants by the Law Society of Upper Canada (mandatory for all attorneys practicing US law in Ontario). In addition, each attorney in the firm's Toronto office maintains professional liability insurance for both American and Canadian matters, in an amount not less than $1,000,000.00CAD per occurrence or $2,000,000.00CAD in the aggregate.

Chang & Boos believes that experienced lawyers play an important role in improving the legal profession as a whole, through the mentoring of less experienced immigration practitioners. In furtherance of this objective, members of the firm frequently lecture and publish articles (in the areas of US immigration law and Canadian immigration law) for the legal profession in the United States and Canada. Henry J. Chang is a prolific lecturer and writer on the subject of investor visas, both E-2 visas and EB-5 immigrant investor green cards; please refer to his online biography page for a list of selected publications.

Chang & Boos began providing comprehensive, original legal content on the Internet in 1995. During the past twelve years, our website has become the standard for both Canada immigration law and US immigration law information on the Internet. We encourage you to review our most popular articles below or to click the "Resources" button above for a list of all our articles.